Types of Vacuum Cleaners:Understanding the different types of vacuum cleaners is crucial in making an informed decision. Options include upright, canister, stick, handheld, and robotic vacuum cleaners. Each type has unique features and is suitable for specific cleaning requirements. Consider factors such as floor types, accessibility, and storage space when selecting the type that best suits your needs.
Suction Power:The suction power of a vacuum cleaner determines its ability to pick up dirt and debris effectively. Look for models with high suction power, often measured in watts or air watts, to ensure efficient cleaning. Additionally, consider adjustable suction settings to accommodate different surfaces and cleaning tasks.
Filtration System:A robust filtration system is essential for maintaining clean air quality while vacuuming. HEPA (High-Efficiency Particulate Air) filters are highly effective in trapping small particles, allergens, and pet dander. Look for vacuum cleaners equipped with HEPA filters, as they provide superior filtration and help reduce airborne allergens.
Bagged vs. Bagless:Vacuum cleaners are available in both bagged and bagless models. Bagged vacuum cleaners use replaceable bags to collect debris, which can be hygienic and ideal for allergy sufferers. Bagless models have dust canisters that are emptied and cleaned after use, offering convenience and cost savings. Consider your preferences and specific needs when deciding between the two options.
Versatility and Accessories:Assess the versatility of a vacuum cleaner by evaluating the range of accessories and attachments it offers. Attachments such as crevice tools, upholstery brushes, and pet hair attachments enhance the vacuum's effectiveness on various surfaces and help tackle specific cleaning tasks. Choose a vacuum cleaner that provides a comprehensive set of accessories to meet your cleaning requirements.
Maneuverability and Weight:Consider the weight and maneuverability of the vacuum cleaner, especially if you have multiple floors or tight spaces to clean. Lightweight models or those with swivel steering facilitate easy movement and maneuverability, ensuring efficient cleaning in hard-to-reach areas.
Noise Level:Vacuum cleaners can generate varying levels of noise during operation. If noise is a concern, look for models specifically designed for quiet operation. These models incorporate noise-reducing features without compromising performance, allowing for more peaceful cleaning experiences.
Maintenance and Ease of Use:Evaluate the maintenance requirements of the
China Household Vacuum Cleaner
, such as filter cleaning or replacement, emptying the dust container or bag, and general upkeep. Opt for a vacuum cleaner that offers ease of use, with features like easily accessible controls, clear dust container/bag indicators, and intuitive maintenance procedures.
Choosing the right household vacuum cleaner requires careful consideration of factors such as type, suction power, filtration system, versatility, maneuverability, noise level, maintenance, and budget. By evaluating thesecriteria and understanding your specific cleaning needs, you can select a vacuum cleaner that will effectively and efficiently keep your home clean and fresh.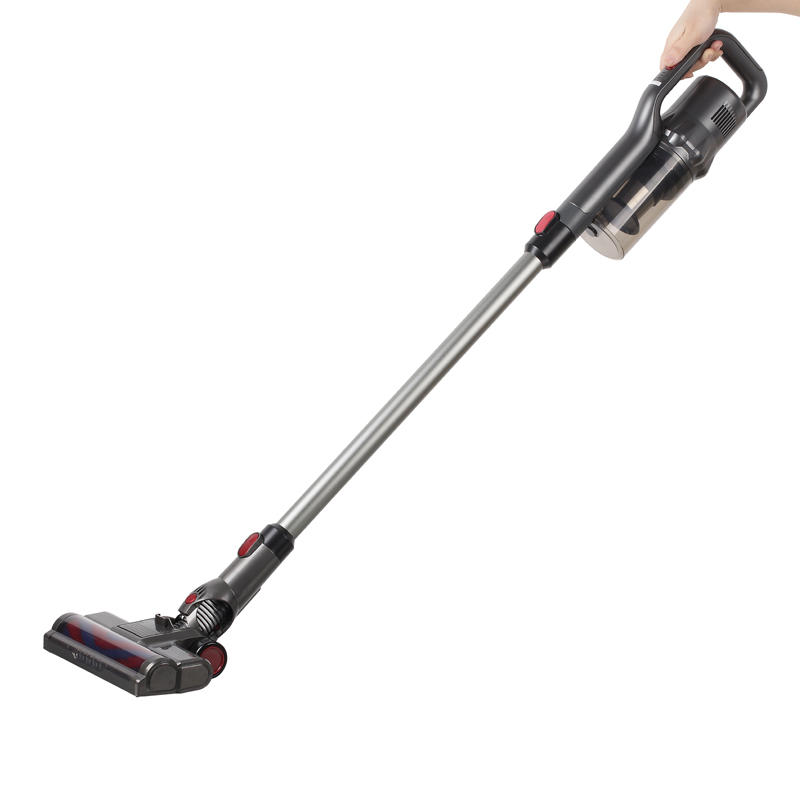 Features:
Light weight and easy maneuverability
High suction power, efficient clean feel
Suitable for multiple scenes
Upright storage, convenient storage, do not occupy space
Stainless steel mesh, Multistage filtration system
Detachable and washable dust cup
Easy to clean HEPA filter
Multiple optional accessories
Optional accessories:Aluminium tubes, Aluminium telescopic tube, Crevice nozzle, Accessory holder